WELCOME TO: CHARLIE NOTESS' WEB-SITE -- CURRENT POSTINGS
Last updated: 6-12-08.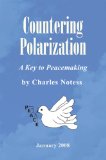 I have incorporated many of my ideas about countering polarization, Islam, and peacemaking in a 5-Chapter book entitled COUNTERING POLARIZATION - A KEY TO PEACEMAKING. That book is now available from Amazon.com and Barnes and Noble (bn.com), the Colorado State University Bookstore, and the Boulder Book Store.
I have also posted my book on the web, since I can continue to update and improve the web version and readers can easily do a word search. It is accessible by clicking on: COUNTERING POLARIZATION - A KEY TO PEACEMAKING.
NOTE: I have expanded the Epilogue to my book considerably during my stay as a Cancer patient in the hospital in May and June, 2008. The new Epilogue is accessible at: New Epilogue.
That E-book, in Chapter 3, Section Q, includes a discussion of Barack Obama's disagreement with Reverend Wright. That discussion is accessible at: RELIGIOUS VS. POLITICAL PERSPECTIVES, AND THE MEDIA.
My book is also available from Xlibris.com, the publisher, by clicking on its title: Countering Polarization - A Key to Peacemaking. NOTE: This book supercedes and merges two of my earlier books published by Xlibris in the Fall of 2007.
A four-page summary of the book is accessible on the web by clicking on my web posting entitled: PEACEMAKING IS NOT SIMPLE, BUT IT IS POSSIBLE. This web posting includes three reviews.
My book and links to web postings included therein are aimed at helping readers learn about why there is such extreme polarization in America and the world and what WE must do to decrease it. Polarization, or the splitting of a community into two or more opposing factions, is found in politics and religion, especially in legislative bodies and within major religious groups in the US and in the Near East. Polarization and closed minded political and religious beliefs destroy true democracy. Peacemaking depends upon broadening perspectives and relating, with tolerance, to diverse others from different ethnic and religious backgrounds.
NOTE: The scope of my book can be seen in the detailed Table of Contents that lists over 70 section headings from its five chapters. The Table of Contents is accessible at: Table of Contents.
NOTE: I have posted an INDEX that is useful for the published book. I continue to update that Index. The Index is accessible at: INDEX.
NOTE: I have posted on the web, a BIBLIOGRAPHY with around 190 listings from my book. It is accessible at: BIBLIOGRAPHY.
MY OTHER POSTINGS
1. One of my well received web postings is accessible for free as a 20-page posting. Click on its title: RELATING TO THE DIVINE AND PEACEMAKING.
2. NOTE: I have posted a one-page summary of Relating to the Divine and Peacemaking that is accessible by clicking on: A TRANSITION TO ONE WORLD FAITH.
3. A related short essay that appeared in the Loveland, Colorado Reporter Herald as a letter to the editor on October 2, 2007, and has gotten good reviews, discusses a definition of God that atheists might accept. It is accessible at: Relating to God. I added several references and reference to my two books to be published this Fall to the newspaper letter.
4. On October 7, 2007, I posted: EGO VERSUS ALTRUISM. This short posting discusses how responses to fear - an ego-based drive - attracts supporters more quickly than do altruistic responses such as peacemaking. This difference makes it difficult for altruistic responses to counter ego-driven responses.
5. NOTE: For those looking for an introduction to Islam and Muslims in America, see my 29-page HANDOUT at: Handout9. I used this handout in a class that I led for retirees at two local senior centers.
6. NOTE: For those looking for an introduction to the Qur'an, see my posting: NOTES ON THE QUR'AN.
7. Another E-book that I have posted on the web is entitled: REALITY AND FAITH - A COMING TOGETHER OF FAITH AND REASON. This E-book with the text updated to 4-06-07 has 39 pages of text that include links to chapters in my book mentioned at the beginning of this listing.
8. Other postings by Charles Notess are: SAVING OUR PLANET.
9. WORKING TOWARD PEACE BY BALANCING COMMITMENTS TO NARROW AND WIDE PERSPECTIVES.
10. COMMENTS ON THE IRAQ STUDY GROUP REPORT.
---
Charlie Notess, PhD